---
Octave Bandwidth Coaxial Isolators and Circulators

Model Number

Frequency (GHz)

Isolation (dB) Min.

Insertion Loss (dB) Max.

VSWR Max.

Power (Watts)

Dimension (Inches) W x L x T

SM1020T01

1.0 to 2.0

18

0.5

1.25:1

10

2.75 x 2.75 x 1.00

SM2040T01

2.0 to 4.0

18

0.5

1.25:1

10

1.61 x 1.60 x 0.80

SM4080T01

4.0 to 8.0

18

0.4

1.25:1

10

l.00 x 1.00 x 0.57

SR0816T01

8.0 to l6.0

20

0.5

1.25:1

1

0.50 x 0.57 x 0.39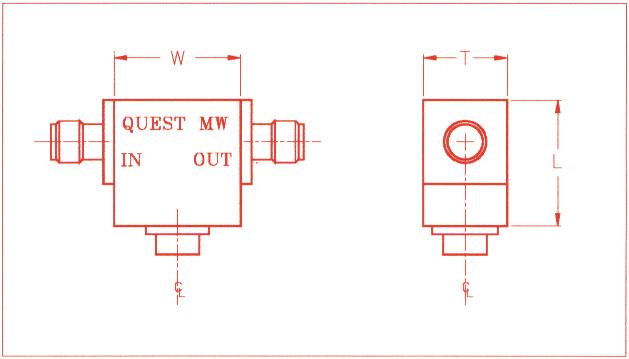 Description
QUEST Microwave's coaxial isolators and circulators provide excellent performance over octave frequency hands. Standard models are supplied with SMA female connectors. The standard terminations are rated at 10 watts. Model SR0816T01 has a one watt termination due to the smaller package size.
To request a circulator, replace the T in the model number with a C.
Note: Various configurations, with different connector types and high power terminations, are available. Other octave bands are also available. Please consult the factory for custom requirements.